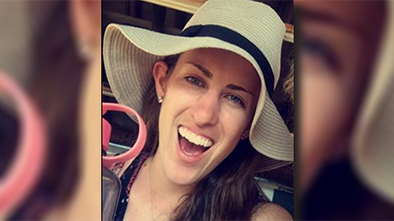 It would be safe to assume that Erin Amarello knew everything there was to know about Rensselaer Polytechnic Institute. After all, as an undergraduate, she double majored in mechanical and nuclear engineering, was two-time Co-Captain of the Women's Varsity Lacrosse team and President of the Rensselaer Student Union – all while making time for a variety of extracurricular activities on and off campus.
But there was one thing she didn't know: The options that Rensselaer at Work programs afforded her at the onset of her career.
After graduating from Rensselaer in 2015, Erin went to work for The Timken Company, which employs 17,000 around the world, and designs and manages a growing portfolio of engineered bearings and power transmission products. With facilities in 35 countries, operations is a critical function for Timken. Given Erin's drive for excellence and authentic demeanor, she went into a fast-track rotational program holding four jobs in two locations over two years.
Erin was quick to see the career opportunity in manufacturing and decided to pursue a graduate degree immediately. She was certain that she wanted something more than just another detail to add to her already impressive resume. She wanted a different kind of experience and not just a continuation of her undergraduate degree. Instead, she was set to build upon her current strengths and preferences. Erin wanted a graduate program that would purposefully blend analytic deskwork and on-the-floor, in person operations, combined with her developing acumen in technology. She also recognized her limitations, and sought a graduate education that would complement her developing expertise in supply chain, project management, and systems engineering. On top of that, she had a demanding travel schedule and an active personal lifestyle she didn't want to jeopardize. Initially, she was thinking an MBA would be the best program type given her goals, but was open to exploring all of her options.
As Erin did her graduate study due diligence, she stuck with her criteria to find a top-tier program that not only fit her career and educational goals, but could realistically be done in her own way. On a whim, she decided to check out Rensselaer's website and was pleasantly surprised to find the Master of Engineering in Systems Engineering and Technology Management for working professionals: project-based learning mentored by world-class faculty and accessed from anywhere, any time.
She quickly signed up for an Informational Webinar – admitting later that she was "the one" asking all of the questions. Little did Erin know that she served the other webinar attendees well, as all those who attended that day enrolled in their graduate program of choice.
Excited to find the program she had hoped for, she was quick to learn a common challenge professionals face as graduate students. In the first two weeks of classes, Erin was travelling on business, with a packed schedule, and had to call her professors from airport layovers to get caught up. They were completely understanding, accommodating and helpful and she quickly made up the missed work in good time.
As her courses progressed, Erin was promoted at Timken and easily pivoted her interests in class to focus on the requirements of the new position. She upgraded her agile project management skills which helped her tailor her oversight to individual employee needs. She also took the Business Issues for Engineers class which gave her the foundation for evaluating the economics and lifetime value of particular client relationships and projects. With ease she put into practice the critical skills required for large, long-term projects in bearing manufacturing for defense contractors. She particularly enjoyed the applied project work of her graduate studies and often challenged herself with more advanced simulations that proved beneficial for her employer and her career.
When asked what advice she would give anyone considering a Rensselaer at Work graduate program, Erin replied with certainty, "You get out of RPI what you put into it. If you're going to make an investment of time, energy, and your future that's this large, then you owe it to yourself to get everything out of it. Having a diploma on your office wall impresses no one, only improving performance does."
Outside of work, Erin's degree is also affecting her personal life. "I am the customer of my own life," she added, "and I live by design." These days, that means turning the chaos of a busy social life, sports, community involvement and recovering from a torn ACL into smart, achievable goals. A discipline she credits to the experience as a Rensselaer graduate student.