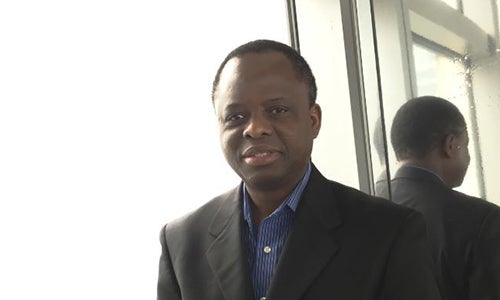 Rensselaer Alumni Feature
---
Leandre Adifon '00
From Determined 14-Year-Old to Fortune 500 Executive and Back, Rensselaer at Work Alumnus Leandre Adifon Goes Full Circle.
Until recently, Leandre Adifon moved fast and went big in his work. As Worldwide Vice President of Engineering for Otis Elevator, nearly everyone in the developed world has ridden in one of the more than 1,000,000 Gen2 elevators his team produced, accounting for billions of passenger rides every day.
Developed in record time after a competitor launched a leading-edge elevator type, the Otis Gen2 embodies Leandre's systems approach to design and engineering. Aside from the obvious passenger interface of buttons and doors, Leandre co-authored dozens of patents (https://patents.justia.com/inventor/leandre-adifon) for his literally outside-the-box systems governing brakes, motors, cables, doors, dampers, installation, and much more that ultimately allowed for elevators without the traditional rooftop "doghouse" that ruined the architectural aesthetics of so many older buildings.
Leandre's path to such massive career success was as untraditional as the steps he has taken since. Growing up in The Republic of Benin in West Africa, Leandre became an entrepreneur with a knack for solving problems as a teenager. At age 14, he was making and giving away his own bleach to his neighbors. By 16, he was building chicken hatching boxes for local farmers, graduating to windmills by age 21.
In his mid-20s, after earning his undergraduate degree in Benin, he went to Italy and graduated from Politecnico of Milan well ahead of schedule, also earning a Professional Engineer (PE) license. While living in Italy, Leandre began his professional career with a focus on robotics, machine-tools, systems and thermal engineering. Soon Otis Elevator's Italian division came calling. He accepted the job and quickly rose through the ranks, attracting the attention of management in the United States who brought him to Otis's headquarters in Farmington, CT, where he continued to excel, taking on increasingly challenging projects and introducing greater systems thinking.
In the midst of his Otis work, Leandre decided to take advantage of his employer's education benefits to earn an MBA. After researching various programs, he settled on Rensselaer at Work - but quickly ran into a dilemma: there were so many classes that interested him that he couldn't fit them all into a single degree. So, he added a Master of Science in Finance to his MBA and earned both simultaneously while working fulltime on the Gen2 Elevator as the company's senior manager for systems engineering.
Almost incomprehensibly, Leandre earned his RPI degrees without taking any notes in some of his classes. His preferred method was to remain present and focus intently on whatever was being taught. Afterwards, he would recap lectures and use online resources to fill in the gaps in his understanding. Clearly, his unorthodox method worked as he completed the requirements for both degrees six months well ahead of his cohort.
His method also worked to propel him to the highest ranks of Otis, with a team of 1,000 engineers around the world reporting to him and membership to the Executive Committee.
And then, after 20 years of dramatic climbing from an inexperienced engineer in Italy to the very highest ranks, Leandre left his work at Otis.
To the surprise of everyone, he took over engineering of the industrial sector at Ingersoll-Rand, a well-regarded manufacturer of power tools, compressed air systems, pumps, material handling and light utility vehicles (including golf carts) as well as residential and commercial heating ventilation and air conditioning (HVAC) systems with transport refrigeration.
As much as he loved his time at Ingersoll-Rand, after 8 years, Leandre left and started his own business, one with a mission unlike any other.
His new company, Pyramid Base Technologies, is the embodiment of Rensselaer Polytechnic Institute's motto: "Why not change the world?" Pyramid Base Technologies set the mission to serve the billions of people who make up the base of the socio-economic pyramid (www.pyramidbasetechnologies.com).
Leandre recognizes the simple truth that, despite their best intentions, engineers and companies in developed nations design top-down solutions that are priced above what most people in developing nations can afford. They simply have too many constraints that prevent them from sufficiently controlling costs while delivering quality products. Put another way, a large company can manufacture bleach at scale, put it into attractive packages, and market it in crowded grocery stores but it can't compete with a determined 14-year-old who serves his neighbors for mere pennies. This phenomenon repeats itself in all technologies.
Following the United Nations' 17 Sustainable Development Goals, Leandre has identified six core areas of focus for technology innovation and investment: water, health, food, education, energy, and habitat. He is well under way in his plans to engineer solutions to these fundamental problems at a local level, using local talent, and then scale them across the developing world.
Leandre has summarized his innovation methods and experience that have led to many inventions, in his new book entitled WinnoveX: Win Your Way to Innovation Excellence. His company is providing consulting services to organizations around the world aiming at creating sustainable practices that will change the lives of many people worldwide.