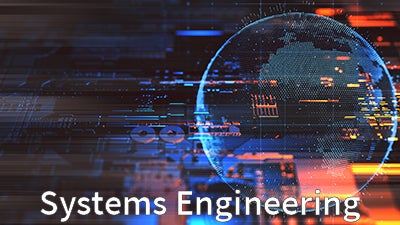 An organization is only as good as its systems. That is why the most competitive organizations invest in the best systems engineers.
Leaders with the right systems engineering tools know how to optimize systems and processes in order to remain competitive. Greater attention to increasingly difficult and complex global supply chains, just-in-time inventory management, and new manufacturing techniques is a must. Systems engineers see the "whole picture" and work with stakeholders to move organizations forward. Rensselaer's Systems Engineering Graduate Certificate prepares you to get costs and inventory under control and enhance your organization's competitive advantage.
These skills are taught across three courses: Business Issues for Engineers and Scientists; Systems Modeling in Decision Sciences: and Discrete Event Simulation. Hands-on, real world projects - integral to the courses - are designed so that students can realize immediate application to their work
Certificate Information
You can begin the certificate in January, May, or August
All courses are delivered using Rensselaer's digital classroom – the RensselaerStudio
Certificates are 9 credit hours, and can be completed in a year or less
Complete projects that address real-world business challenges
Master techniques and abilities that can be leveraged to elevate your role at work
Projects involve the context of your work, helping you to perfect your abilities while simultaneously providing value back to your employer
Faculty Practitioners provide industry expertise, advice, mentorship, and encouragement
Students have the option of completing just one certificate, or combining multiple certificates into a customized master's degree
All certificates are offered for graduate-level credit, and require admission to Rensselaer's graduate programs
Certificates are designed so that you can fully participate in classes from anywhere in the world.
Course Coverage:
The Systems Engineering Certificate requires three courses:
ENGR 6100: Business Issues for Engineers and Scientists - Investigate the underlying business model in new and existing ventures, including competitive analysis, value propositions, competitive advantage, financials, strategy and operations.
ISYE 6610: Systems Modeling in Decision Sciences - Model systems using linear programming, integer programming, multi-criteria decision-making, and decision analysis. Use computational tools to evaluate systems and make actionable decisions to improve system performance.
ISYE 6620: Discrete Event Simulation - Use graphical simulation modeling, animation, large-scale and complex systems models, random variate generation, input and output modeling, sensitivity analysis, and interactive decision-support systems to evaluate performance.