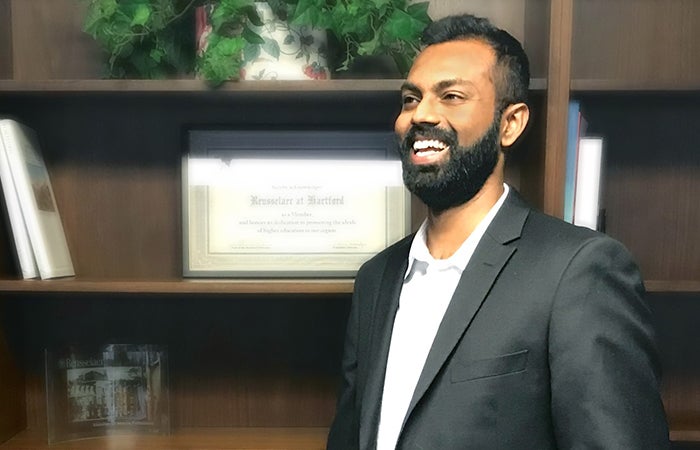 As we sat down for an interview, Rensselaer graduate student Rijoy Augustine started to focus on an issue with the brightness setting on my audio recorder. It was unusual for an interview subject – they're usually nervous and ready to share their stories, knowledge and successes. But for Rijoy it perfectly encapsulates the reason for our conversation. 
Rijoy is focused on the minute details of literally everything. That's part of his job as a Quality Engineer at Pratt & Whitney, a subsidiary of Raytheon Technologies that manufactures jet engines for military and commercial aerospace clients. Every day, 90,000 Pratt & Whitney engines transport people all over the world. They count on every part of every engine to meet demanding specifications. And because quality extends from engine design to materials sourcing, manufacturing and maintenance, Rijoy has to remain vigilant of quality at all stages of the product's life. 
Rijoy is well-versed in the company's Achieving Competitive Excellence or ACE continuous improvement system. ACE ensures best-in-class products and services, with efficiency and decreased waste managed across every area of the company. While every employee at Pratt & Whitney practices ACE, few advance to higher levels of certification, as it requires extensive training and project experience. To advance in his career and further his ACE proficiency, Rijoy decided to pursue a Master of Engineering in Systems Engineering and Technology Management degree from Rensselaer Polytechnic Institute's Rensselaer at Work program. His tuition is paid through Raytheon Technologies' Employee Scholar Program, one of the most comprehensive company-sponsored employee education programs in the world. The company has invested more than $1.3 billion to further employees' formal education since 1996.
Rensselaer has a long history with Raytheon Technologies. Rensselaer Polytechnic Institute's Rensselaer at Work division evolved out of its Hartford, CT, campus, which was originally created to provide advanced degrees for United Aircraft Corporation engineers in the 1950s. Fast forward 67 years, the needs of both students and their employers have shifted dramatically while technology has revolutionized education. Organizations recognize the need for a cutting-edge workforce, especially among their professionals, but insist that all knowledge be practical and immediately applicable rather than just theory based. Professionals have demanding schedules too, often with international travel and active personal lives, making in-classroom education a relic of their undergraduate days.
To keep up with those changes, Rensselaer at Hartford became Rensselaer at Work and Dean Aric Krause was hired to re-engineer it. The coursework is organized around the challenging, real-world projects that students face in their daily work. Instruction is handled virtually by industry experts who not only provide advanced theoretical knowledge but also guide students through best practices in executing their projects, often mentoring students in areas that add the most value to their employer. To simplify the complexity of an education program designed to keep world-class organizations competitive on the global stage, Dean Krause sums up the programs' promise in three simple words: "know and do."
As a prospective student, Rijoy needed approval on a substantial project, executed concurrently with his graduate study that would help Pratt & Whitney meet its quality requirements. He met with his future academic advisor, Michael Hughes, and his future Lean Six Sigma instructor, Antonella Zompa, to work through his options. The challenge was to establish criteria that fit both the "know" or knowledge required, and the "do" effectively managing a team and resources needed, via a big enough project that would offer evident value to the company.
That project was to help Pratt & Whitney in meeting its requirements under the United States Department of Defense (DoD) Manufacturing Readiness Level Assessment or MRL. MRL has been in use by the DoD for over a decade and is designed to ensure that military suppliers, from aerospace to medical supply, consistently meet targets for cost, delivery, and quality. For every one of the thousands of companies involved in military procurement, the assessment is comprehensive and daunting, and non-implementation can be potentially catastrophic. Google lists 18,300,000 entries for MRL, many referencing the army of consultants who now specialize in it.
Rijoy would take on reengineering the Quality elements of Pratt & Whitney's MRL Assessment from within his area of work. Rijoy's Discipline Chief, Hermitt Vega, a Raytheon Technologies engineer who is a Certified Six Sigma Black Belt, said, "Rijoy was on track for ACE Certification. He's smart enough to learn the theoretical aspects of Lean Six Sigma, but he needed to apply what he would learn to an actual, significant project. Rijoy's work with MRL quickly attracted the attention of management."
Starting in Fall 2018, Rijoy began learning Antonella's Lean Six Sigma approach and assembled his team for the mission. They met every Wednesday, for hours at a time, to hammer out - over pizza and coffee - the details of Pratt & Whitney's MRL assessment and began conceptualizing what would eventually become the MRL Qualification Plan tool. There was an on-going emphasis on saving time, increasing consistency of application, and decreasing errors. For security reasons, Antonella was not allowed to see any specific data, but advised using scrubbed information and trend graphs. The systematic definition, measurement, analysis, improvement, and control they produced in the end empowered the team to operate more effectively.
"My students are smart," Antonella Zompa says, "but as engineers, they are not necessarily trained to sell a project internally." Antonella, a Lean Six Sigma Black Belt who rose through the ranks of General Electric's post Jack Welch years, understands firsthand the challenges of executing major change initiatives in a corporate setting. She mentored Rijoy with the practical aspects of organizing his team, structuring his meetings, and managing his deliverables while simultaneously mastering and applying the principles of Lean Six Sigma.
Like most Rensselaer at Work students, Rijoy maintained an active personal life while pursuing his degree and working full time. He and his wife welcomed the arrival of another baby girl and he took time off to be with his growing family. Students often travel internationally on business, so instructors make allowances and design projects around demanding schedules and work/life objectives.
Rijoy used the knowledge he gained in Rensselaer's graduate study program to successfully guide his team to complete the MRL assessment project by October 2019. The MRL Qualification Plan was converted from a subjective process to one with clear success criteria, cutting the time required by 2/3 and delivering consistent results, regardless of which employee conducts the assessment. Rijoy's project was viewed as one for others to emulate, and he was invited by the vice president of Quality to present at the department's monthly staff meeting.
"I didn't know what 'agile' meant before RPI," says Rijoy. Now, he is a Lean Six Sigma Green Belt, an ACE Associate, and an expert in Agile, with a high-profile project under his belt. In May 2020, he will make the journey to Rensselaer's main campus in Troy, NY, don his cap and gown and walk across the stage to accept his Master of Engineering in Systems Engineering and Technology Management diploma. In the audience, his wife and two young daughters will join the many who honor his accomplishments, and a valuable lesson will be learned: an investment in education at work can pay off on both a personal and corporate level for many years to come.