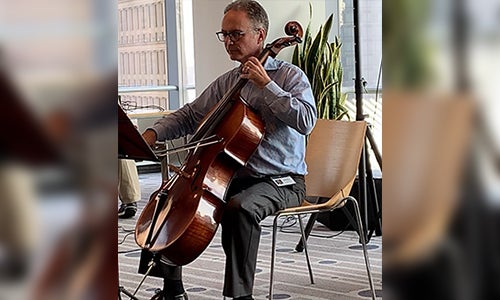 Rensselaer at Work – Alumnus Feature
---
Randy Gordon '96
Senior Vice President, Data Governance Risk Officer / Citi Private Bank
One would expect that a high-profile Data Governance Risk Officer would have an undergraduate degree in Information Technology, Computer Science, Economics, Management, and the like.
What does not come to mind is a performing arts degree in cello, which seems as unlikely as a business analytics major soloing with a major symphony orchestra.
And yet, for Randy Gordon, Senior Vice President, Data Governance Risk Officer, majoring in cello led ultimately to a highly-visible, highly-responsible position with Citi, one of the leading global banks, at their headquarters in New York City, due in part to an advanced degree from Rensselaer at Work.
It all began in grade school when the future Data Governance Risk Officer wanted to learn string bass in 4th grade. The strings teacher told him he was too short, and suggested cello, instead. The disappointment soon dissipated when Randy found that he loved the cello and loved the orchestra, specifically the way a group of individuals could come together and create a whole that was greater than the sum of its parts.
"Music is the very definition of diversity and inclusion," Randy shared, "You can be from anywhere in the world, any language, any religion, and if you're reasonably talented, you can join others to make beautiful music together."
Growing up in the suburbs of Hartford, CT, he took lessons at The Hartt School of Music at the University of Hartford and then enrolled as a student when he graduated high school. He went on to spend the next four years practicing in closet-sized rooms for hours at a time, perfecting his craft and mastering the most difficult pieces, and rehearsing with full orchestras and string quartets. As a performing arts major, Randy took few traditional classes, and instead enrolled in subjects that interested him most, like English Literature.
Graduation came and Randy soon learned the hard truth of being a professional cello player. It wasn't the poverty, which he expected, but rather the burnout of playing the same unchallenging songs at weddings and funerals, bar mitzvahs and bat mitzvahs, across Connecticut. He did play with some orchestras and taught a bit, but gone were the days of focusing for months at a time to deliver a virtuoso performance on a difficult piece. Instead, he was shackled by the constant repetition of familiar standards.
So, Randy pivoted. Into insurance. Which was not altogether surprising given his father was in the business and Hartford, Connecticut, is known as the "Insurance Capital of the World".
After six months of studying business and interviewing wherever he could, Randy sat for an interview at Travelers with someone who didn't care that he'd never taken accounting or economics or management or any business classes at all - because he too was a former musician. He hired Randy on the spot.
In retrospect, Randy's new boss was likely aware that musicians are highly-skilled in areas that make them supremely valuable employees. Randy could listen intently and calibrate his actions to mesh with his team, even during the chaotic times that would shake the industry in the coming years. Randy could focus for hours at a time, producing high-quality output repeatedly, as colleagues struggled to maintain their attention. And, perhaps most importantly, Randy could encode and decode a symbolic language, which would prove invaluable with the rise of computers, data, and algorithms that are still transforming the business world today.
Soon, Randy was the technology liaison for his group, in an analog department focused on assembling paper-based information packets on employee benefits. His responsibilities grew as his department modernized and by the early 90s, as a rising manager at Travelers, he decided that he needed to go back to school and take actual business classes.
On the advice of his father-in-law, himself a class of 1958 alumnus of RPI's graduate program in Hartford, Randy enrolled in Rensselaer at Work and took his first-ever class in accounting - and loved it. The structured linearity of accounting correlated perfectly with the mathematical structure of music that was such a large part of his life. Randy excelled in his graduate coursework. Soon he was building advanced staffing and resource models in Lotus 1-2-3 and Excel and using them to make decisions for his department, applying what he was learning at night school during the day.
For the next few years, Randy took one class at a time until he had earned his MS in Financial Services from Rensselaer Polytechnic Institute's Hartford, CT campus, which simultaneously became more critical as Travelers went through a series of investments by financier Sandy Weill, including a merger and then a spin-off. At one point, Randy worked for three companies in six months without ever changing phone numbers.
The re-organizations and lay-offs eventually caught up with Randy by the turn of the millennium and he decided to take his degree and experience to the finance industry. He and his wife, a vocalist, moved first to Fairfield County, and then to Brooklyn. As fate would have it, he ended up at Merrill Lynch, where he was working in credit risk management at the time of the 2007-2008 market collapse.
Along with other big name Wall Street banks, Merrill Lynch was hit hard by the financial crisis and was ultimately acquired by Bank of America. Randy's department remained intact, however. They alone understood the details and scale of the credit risk exposure Bank of America was now facing and had to work overtime to document and mitigate it.
As regulators moved in to chart a path through the crisis, it became apparent that data management was a big challenge for companies across sectors, including finance, made even more so by the exploding volume of data.. "Remember when a megabyte of data was a big deal?" Randy asks. "Now a terabyte (1 million megabytes) is nothing."
Data governance has now become as crucial as financial governance to the health and well-being of corporations. The key focus areas of data governance include data availability, usability, consistency, integrity and security as well as establishing processes to ensure effective data management — and that the data can be used as a critical business asset throughout the enterprise.
Taken together, data's mathematical structure, coded, symbolic language, and convoluted spatial and temporal dimensions can quickly escalate the complexity of data governance. What's needed is someone with an aptitude for creating order out of chaos in much the same way a musician makes sense of intricate melodic and harmonic patterns. For Citi Private Bank, that someone is Randy Gordon, cello player and Rensselaer at Work MS Financial Services graduate.