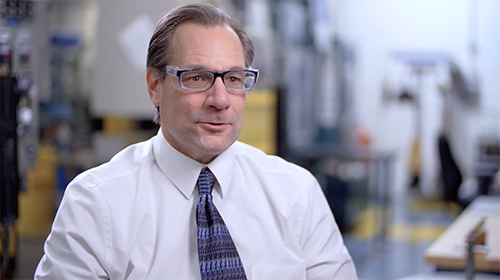 Over the years, thousands of working professionals have earned advanced degrees through Rensselaer at Work. Of those, only a small fraction have earned their degrees as a married couple. And, of those, one point-of-pride graduate has gone on to become a beloved faculty member, earned a second advanced degree, mentored hundreds, and was awarded major accolades from his employer, his peers, and his community.
John Marcin matriculated into Rensselaer at Hartford, as it was then known in 1983, the same year he started as a new employee of Pratt & Whitney. Despite having just earned a BS in Materials Engineering, the demands of the job were such that he needed to increase his specialized knowledge. So, alongside his wife, also a materials scientist, he completed his first graduate degree in two years. When his professor offered him an lectureship, he jumped at the opportunity because he had so thoroughly enjoyed his own learning experience and was convicted to sharing his materials expertise. Since he spent so much time on campus, John decided to extend his knowledge on a global scale and pursued an MBA in International Business as well. Shortly thereafter, John was named an Adjunct Professor and taught his own courses in materials science at Rensselaer which continued for many years.
Professionally, John quickly climbed the ranks and became manager of the Pratt & Whitney Casting Laboratory, which was responsible for one of the most important metallurgical advances in history: the Single Crystal Turbine Blade. Recently honored by The American Society of Mechanical Engineers (ASME) as a historic mechanical engineering landmark, it was developed in the 1960s to address the inherent challenges of creating components for jet engines, which run at temperatures that exceed molten lava. Modern aviation would not be possible without the Single Crystal Turbine Blade developments.
During the 1980s, when John was getting started at Pratt & Whitney and studying at Rensselaer at Hartford, the technology went into widespread use because of its heat resistance, longevity, and reliability and he was an active participant in its adoption. In time, John became a global authority on the Single Crystal Turbine Blade technology and its manufacture and refinement.  A prolific inventor in his own right, he has been issued 45 US patents with an additional 70 disclosures in process.
His efforts did not go unrecognized, either by his employer or his peers. United Technologies Corporation awarded John the coveted United Technologies George Mead Medal for Engineering Excellence and four Pratt & Whitney Corporate Leadership Awards. Professionally, John was named a Fellow of The American Society for Metals International and is an active member of The Metallurgical Society TMS, The American Foundry Society, and The Investment Casting Institute.
Despite this massive workload, John made time to give back. He has mentored hundreds of co-workers at Pratt & Whitney, as well as students at Rensselaer at Work, watching them follow in his footsteps and ascend the ranks. John has led hundreds of tours throughout Pratt & Whitney, noting that he often learns as much from the questions as the participants learn from his answers.
And it all began with a realization he had in the first days of his career. "I knew I needed more education.  You could either get it by osmosis on the job or by formal instruction that Rensselaer could offer" he said.  With that, he applied to Rensselaer at Work and went on to literally change the world, on a massive scale with jet engines that withstand the rigors of international flight and on a personal scale through instruction to students and new employees.
Join us as we congratulate John on a recent move in his 35 year career, to a new position created just for him: combining his technical expertise, Rensselaer graduate education and professional grace – leading Global Supply Chain Technical Optimization at Collins Aerospace in Windsor Locks, CT. John notes this recent move was unexpected, coincidental, and an apparent great fit. "People are the key element of a company, and I now have an opportunity to develop global teams; building rapport and trust in order to lead corporate objectives to the next level." Although he'll miss the people and manufacturing innovation at Pratt & Whitney – he knows that Collins Aerospace is well positioned for the future. His perceived challenge:  "How to manage change when the change is actually changing." We trust this new assignment is no coincidence.