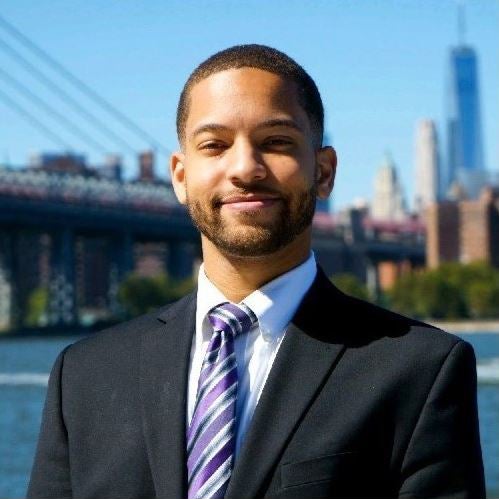 Rensselaer at Work Graduate Student Feature 
Nathaniel Bowles, MSES '24  
Deliberately at the Center of Massive Change
Rensselaer Polytechnic Institute (RPI) offers eight, three credit-course graduate certificates, and Nathaniel Bowles, Financial Services Account Manager at Google Cloud, chose Managing Technical Organizations, Leading Change and Innovation, and Business Intelligence to stack into his own customized Master of Science in Engineering Science degree.
As someone who works for one of the most disruptive companies in history, Nathaniel had deliberately placed himself at the center of massive change. His Leading Change and Innovation coursework opened his eyes to the structure of effective organizational change:
"Learning to use appropriate change management models like ADKAR makes opportunities to make a difference at work more accessible and strategic," he said. "Great ideas by themselves aren't enough — we need to effectively sell the ideas to management, organize projects around them, and bring together teams to execute if we want that real change to happen."
Going forward, Nathaniel is focusing on Business Intelligence because he can team with the greatest data scientists and data infrastructure imaginable, but only to the extent that he understands BI and the possible advances that can happen. The Modeling Business Decisions course projects, for example, will allow him to maximize his approach to serving his Google clients in the best way possible, with informed decisions he can now garner along the way.
"Before, Nathaniel focused on his day-to-day work. He wanted to see beyond his line of sight and adopt a broader strategy apart from that. I have seen his growth as he progresses through the program. He's much more strategic in the way he plans out his course of action. I see him thinking much bigger picture now", shared Nathaniel's Team Lead Brynn Buonocore.
"I don't have to be the person coming up with the big ideas," Nathaniel says. "I want to be the person standing next to that person, turning those ideas into reality."
In a world filled with change, and at a company leading transformational change, Nathaniel Bowles is positioning himself not to stand passively by - but rather to actively sell change vertically to his management, laterally to his team, and outwardly to his clients.
It's an exciting, career-defining opportunity for Nathaniel, as a Rensselaer at Work graduate student at RPI.