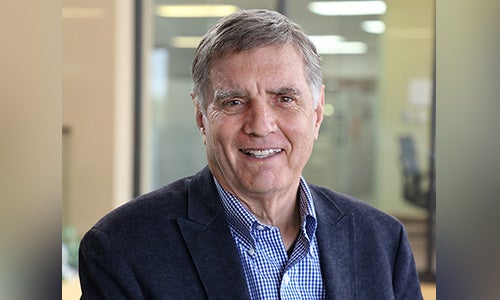 Rensselaer Alumni Feature
---
Fred Keller '72
Founder of Cascade Engineering – Grand Rapids, MI
It's easy to assume that "Why Not Change The World?®", the motto of Rensselaer Polytechnic Institute, refers to technology and only technology, but 2020 shows just how limiting that thinking is. In a year in which the most advanced nations on earth are shut down by a lethal pandemic, major corporations are run via Zoom meetings with participants in their pajamas, and millions worldwide protest social injustice triggered by a brutal video shared across social media, change is deeply personal and technology merely plays a supportive role.
This change, according to Fred Keller, extends to the business world where leaders are traditionally expected to maximize shareholder value and focus on very near term returns rather than on people and the planet.
And while this may sound like yet another shallow attempt to jump on the latest trendy bandwagon, Fred is actually the Founder and Chair of Cascade Engineering, a 1500-employee, family-owned business based in Grand Rapids, MI, and has operated his company sustainably for nearly 50 years. Cascade's remarkable growth and widespread recognition was the direct result of Fred's decision to "lead from behind" and focus on people first.
After graduating from Cornell in 1966, Fred went to work for Pratt & Whitney in Hartford, CT as a metallurgist specializing in plasma spray coatings. While the job was challenging and he met his future wife, a computer scientist, there, he wanted to work in an organization where he could have a larger impact on outcomes. Bitten by the entrepreneurial bug, he enrolled in RPI at Hartford's MBA program to learn operations, marketing, and other crucial business skills. Simultaneously, he was witnessing and deeply impacted by the race riots of 1968 and the lack of action in addressing the underlying causes.
So, after earning his degree with applicable skills to be put to work, he moved back to his hometown of Grand Rapids where his father owned a tool and die company. "Our family joke was that I didn't want to work for him and he didn't want to work for me," Fred said. So, he started Cascade Engineering, an injection molding company, in 1973, with a culture where people worked hard because it was the right thing to do. He quickly realized that companies need systems and he set about creating positive rules framed as "you will" instead of negative "you won't".
Over the next few decades, as Cascade Engineering grew into a leader in its field, it also grew as a leading innovator of corporate missions, where, influenced by the sustainability movement, people became the first priority. By putting people first, attention to the environment and profit happen with greater ease. As Fred explained, "We describe our purpose as an organization to make a positive impact on society, the environment, and be financially successful. We put it in that order on purpose because those three pillars are really important to me and to the organization. It's in our DNA to be concerned about people first."
With regards to people, it wasn't enough for Fred's employees to be told that they were important, they had to know it. So Cascade created innovative programs called Welfare to Career and Prison to Career which not only employed underprivileged people but also paid for social workers to assist them in transitioning into actual careers with a formal program called P.H.A.S.E.S (Providing Health, Activities, Safety, and Enrichment Services). "Most people call it welfare to work," Fred said, "but we call it 'Welfare to Career'. There's a big difference."
This commitment to its employees allowed Cascade to prosper and expand, earning major industry accolades from Chrysler Corporation and the State of Michigan. Most notably, in 1998, along with Anheuser-Busch Companies Inc., BankBoston Corp. and Seafirst Bank, Cascade was awarded The Ron Brown Award for Corporate Leadership by Vice President Al Gore, presented to companies that have demonstrated a deep commitment to innovative initiatives that not only empower employees and communities but also advance strategic business interests.
Around this time, Fred visited Cornell University's Johnson Graduate School of Business to share his business philosophy - about building sustainable companies that last for generations. A professor there noted that in his class they teach that the role of management is to maximize shareholder value and flip the company in 3-5 years, not the triple bottom line of people, planet and profit that Fred espoused. So, the professor suggested that Fred teach a course on corporate sustainability which he did for 17 years while his own company became one of the largest certified B Corps in the world.
This year, like so many other companies, the Covid-19 pandemic forced Cascade Engineering to reduce its payroll which it accomplished through some painful cuts and the voluntary early retirement of some long-term employees. In celebrating their service, the employees shared with Fred how Cascade had been so much a part of their lives, as opposed to just being a place to work and collect a paycheck.
And while Fred was successful in changing their lives, the massive protests following the death of George Floyd are inspiring him to continue to push forward. Talent 2025, which Fred co-founded in 2015 with the goal of making West Michigan a Top 20 employment region, has already attracted over 125 CEOs representing a significant chunk of the workforce in thirteen counties. Two of Talent 2025's priorities Early Literacy and Workforce Inclusion and Diversity have taken on particular significance as the United States and other countries work to address systemic racism. The group works to "illuminate gaps, evaluate leading practices, and advocate for the implementation of those practices" and has made great strides in achieving its ambitious goal of enabling communities to solve social problems through business leadership.
Can we realistically and individually change the world? Probably not, but Fred Keller, a Rensselaer at Hartford graduate who could have comfortably and deservedly retired years ago, is on a mission to change his community – Change Where You Are - and create a regional framework which could truly change the world.