Upon completion of this online, mentored, project-based program, your employees will have practice leading functional areas within your organization — facilitating progress toward specific goals.
In the program, they will holistically frame and make decisions as they develop strategic, financial, market, technical, talent, and organizational expertise.
Your employees will use data visualization and analytics throughout the entire program to maximize the likelihood of success.
They will learn how to manage, mentor, and inspire others by communicating effectively and with purpose.
Employees completing the Rensselaer at Work MBA for Professionals program will actively diagnose, prescribe, plan, and execute strategies that will move the organization forward.
Explore the core coursework and graduate certificates that stack into the MBA for Professionals.
Completing this certificate will give participants practice using professional tools to plan and implement complex projects using agile methodologies.
They will acquire a toolkit of approaches to lead and inspire others through mentorship and coaching.
Participants will create plans to head new and existing products that meet a specific market need better than existing and competing products.
In the end, they can build and foster a culture that embraces change and innovation.
View the three courses and project details for the Leading Change and Innovation Certificate.
Through this graduate certificate, employees evaluate the organization from strategic, competitive, financial, and customer perspectives.
They will have practice managing highly effective, cross-functional teams while communicating with clarity and purpose.
They will develop and practice the implementation of strategic plans to achieve your organization's mission, vision, values, and goals supported by budgets and forecasts.
Participants completing this certificate will evaluate relevant metrics in order to best determine the organization's performance outcomes.
See the three courses and projects completed in the Managing Technical Organizations Certificate.
Executive Training Modules
Rensselaer at Work complements your internal programs with one-month executive training modules that employees complete through projects directly related to their role. Individuals are mentored by a subject matter expert in support of your organizational goals. Modules and mentorship can be delivered onsite or virtually. Executive training module examples are listed below. Other customized experiences can be developed and delivered as needed. Schedule a review of the executive training modules with RPI's Bonnie Blumer.
| | |
| --- | --- |
| Establishing Oneself as a Leader | Mastering Communication |
| Setting and Evaluating Performance Measures | Data Visualization and Analysis in Decision Making |
| Planning and Executing Change | Competitive Analysis and Strategic Formulation |
| Facilitation and Negotiation | Leading and Inspiring People and Teams |
| Planning and Executing Projects to Achieve Results | Coaching and Mentoring |
Retain and promote talent from within your organization
Recommending graduate study to your employees sends an important message: you value them, their work, and want to keep them long-term. By participating in Rensselaer at Work programs, their learning is directly integrated with their role — and you get to see them evolve towards higher levels of responsibility. Their success is our shared success.
Send an invitation to explore Rensselaer at Work programs:
Invitation to Explore RPI's Rensselaer at Work Graduate Programs
The Rensselaer at Work MBA program experience has been essential to the pivotal moves I've managed throughout my career. What I've learned is – the only way to move forward is to go up.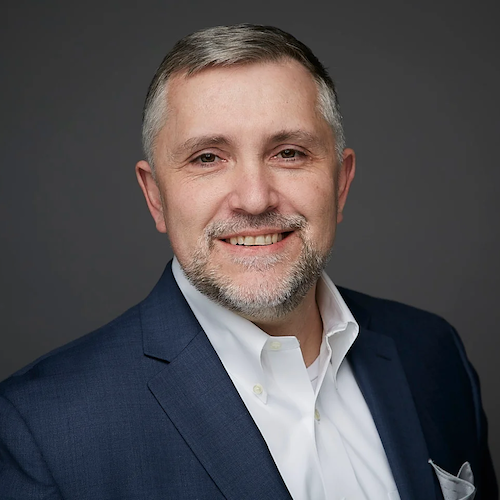 Roman Sobieri '98, Head of Global Shipping, Etsy