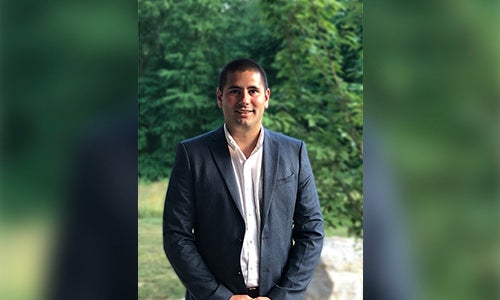 Rensselaer Graduate Student Feature
---
Gavin Molta – Senior Manufacturing Engineering Manager
Collins Aerospace
When Gavin Molta decided to go for his third master's degree — "more degrees than a thermometer," his Site Lead jokes — he was admittedly attracted to the prestige of having a diploma from Rensselaer Polytechnic Institute (RPI).
Which, coming from someone who had consecutively earned a Bachelor of Science in Chemistry, a Master of Science in Engineering Management, and a Master of Business Administration all while advancing through the ranks to Senior Manufacturing Engineering Manager at Raytheon Technologies' Collins Aerospace and simultaneously getting married and having a child, is indeed worthy of high praise.
And while Gavin expected his Rensselaer Master of Engineering in Systems Engineering and Technology Management coursework to be challenging, his professors to be among the best in academia, and fellow students to be intelligent and highly motivated, what he didn't expect was how practical his education would be. "I've taken lots of classes over the years," he said, "and there were some where I would reach the end of the semester and ask myself 'what did I actually learn?' and I wouldn't have a good answer. With the RPI program, that's never been an issue - almost every day I apply what I am learning along the way."
Gavin's experience is not an accident according to Michael Hughes, PhD, Director of Faculty Development and Instructor in some of the graduate certificates and degrees at Rensselaer at Work. "We design our courses without subjective tests, but rather with projects that are based upon what our students are facing on the job. The project work is mentored because that's how corporations effectively train and develop their employees." Michael adds that in any enterprise, from startups to multinational conglomerates, the very best of an organization's leadership will seek out promising employees, assign them to increasingly challenging projects, and then mentor them through the process of leading, analyzing, and changing those projects. This dynamic has many well-documented benefits: corporations are able to consistently develop employees, instilling corporate culture while developing a lineage of mentorship for years to come.
The projects that Rensselaer at Work students bring to their graduate certificate and degree programs are pulled from their actual jobs and are often subject to significant non-disclosure and confidentiality agreements, and are sometimes classified. In Gavin's case, his projects involve the manufacture highly complex aircraft fuel assemblies which are comprised of precision machined parts and electronics. While advanced theoretical knowledge is critical for projects at this level, finding multiple mentors who can take the time and who have the energy to provide practical guidance is often impossible within a corporate setting, which is what makes Rensselaer at Work programs so valuable.
Traditional educational programs, according to Michael Hughes, "seek to minimize the variance in how education is delivered" so that every question has only one correct answer and only one way to determine that answer. In the industrial age, where everyone was expected to work at factories and churn out millions of identical widgets, standardizing education and minimizing variance has a certain logic.
However, in a world radically changing due to the COVID-19 pandemic and at a university whose motto is "why not change the world?®", there clearly is neither a single correct answer nor a well-marked path to arrive at any answer, let alone the answer. People, organizations, and governments are scrambling to come up with answers to questions not yet formulated. Variance, and the uncertainty that comes with it, are the new normal.
They're also the old normal for Michael Hughes, in his role as a Rensselaer at Work instructor, where his job is to personalize his curriculum and mentoring to meet the needs of every individual student. It's also integral to his role on the programs' leadership team, where he identifies talent to instruct every course- including those not yet announced- and convinces them to abandon their traditional approach to education. He leads these instructors to identify the difference they can make; in professionals' careers, and the progress of industry, all by making the time and putting in the energy required to mentor their students individually.
For students like Gavin Molta, the Rensselaer at Work program means taking on the toughest challenges on the job, working through them using an approach he's learning in class, receiving guidance on projects, and then applying his developing solutions. The pressure to deliver is intense and yet, according to Michael, it's actually less stressful than traditional education for a very important reason: standard assignment and test questions generally have just one correct answer, so every single one is a high stakes pass/fail result which can cause students to second-guess and doubt themselves. In contrast, Rensselaer at Work projects are about putting in one's best efforts, accepting feedback, revising, and applying a different approach at work.
This emphasis on people over process were not at all part of Gavin Molta's original criteria for earning his third Master's degree but only midway through, they are already having a profound impact on his work. As he put it, "My experiences at RPI help me help my employer," which is exactly the point of Rensselaer at Work: providing world-changing education that's incredibly practical.