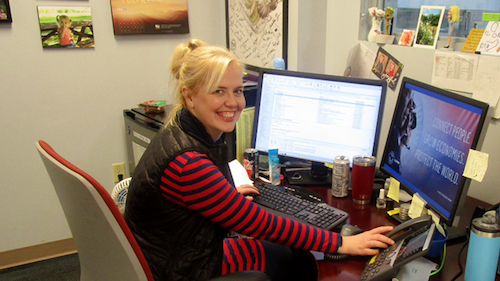 Rensselaer at Work Graduate Student Feature
---
Bobbi Coffin – Senior Technical Manager
Pratt & Whitney
With a team of engineers and technicians managing hundreds of sets of work instructions for commercial and military jet engines, Bobbi Coffin understands prioritization. As a Senior Technical Manager at Pratt & Whitney's Modular Assembly group in North Berwick, Maine, she frequently asks engineers on her team to prioritize activities, while pointing out that "everything is a priority" is not an acceptable answer.
As for Bobbi herself, her two daughters (ages 3 and 5), her work, and her Masters of Mechanical Engineering coursework are her first priorities. This seeming contradiction is actually typical for students in Rensselaer at Work programs, where balancing a demanding career with a rich personal life and a challenging academic program was designed into the graduate degrees and certificate programs.
It wasn't easy to return to school 16 years after graduation, but as a mechanical engineer passionate about aviation, Bobbi understands the professional need to consistently upgrade her theoretical and practical knowledge. Simply subscribing to industry publications and participating in trade groups would never take her to the level she wanted for her career and personal life. So, she had to polish rusty study habits and brush up on difficult topics like advanced differential equations and make time in her demanding schedule. Fortunately, a number of her teammates entered the RPI program at the same time and so they shared the transition to graduate school and its impact on work-life balance together.
According to Dr. Ernesto Gutierrez-Miravete, Professor of Practice and one of Bobbi's instructors, Rensselaer's program serves a unique need within the market: educating key employees with the practical and theoretical knowledge they needed to be at the top of their fields. Unlike traditional undergraduate engineering programs which turn out practical, line-level engineers and graduate programs designed for professors and researchers advancing theoretical knowledge, Rensselaer at Work programs are designed to help mission-critical employees solve high-level problems in market-leading companies. In Bobbi's case, Ernesto pointed to her work with induction heating, which is the localized heating of a component as opposed to furnace heating. As an engineer at Pratt & Whitney, she was an expert in the practical application of this critical industrial process, but didn't understand the theoretical side well enough to create graduate-level mathematical models. Ernesto mentored her through the challenging process of creating the model which she was able to validate on the factory floor. The result was an improved understanding towards a superior approach which could be used to update other processes contained in the hundreds of instruction sets she manages.
Learning such advanced material requires tremendous, time-consuming focus and Bobbi solved the prioritization challenge through compartmentalization. She works while she's at work, of course, but constantly looks for opportunities to integrate and apply her studies into her day- to-day. For example, while studying force impact on the turbine assemblies she manages, she was able to visualize the strain and stress on various areas of a blade using computer simulations. Because the areas with the highest stress need the highest manufacturing quality control, a stray tool mark in a high-stress base could cause a blade to be rejected while the same tool mark on a low-stress tip might pass inspection. She then taught both her team and the members of ancillary teams like Quality, Engineering, Design, etc., what she had learned in order to upgrade the entire process, not just a single instruction set.
Similarly, Bobbi incorporates her Rensselaer education into her parenting, although in a more age appropriate fashion. Her daughters understand that Mommy can't always wait until they go to bed to work on her degree. Some nights are school nights where they watch movies while Bobbi studies. Other times, when scores are posted, Bobbi shares them with her girls, so they appreciate the connection between hard work, time management, and good grades, which will serve them well as they combine their educations with sports, jobs, and social commitments. Even at their young age, the girls know that Mommy makes jet engines for Pratt & Whitney and her three-year-old recently announced that she wants to be an engineer, too.
So, while her daughter's early career ambitions are a source of pride, being a female senior technical manager in a field mostly dominated by men, they also take on a very personal component. Within Pratt & Whitney's meritocracy, Bobbi's title and responsibilities are clearly predicated on her technical expertise and not her gender, yet she's still keenly aware that she's setting an example both to her girls and to her co-workers, making it critical that she absorb knowledge and distribute it freely within her team and across the company.
What makes it possible for Bobbi to remain at the cutting-edge is the fact that Rensselaer at Work programs are designed for people like her who are employed at high-level, full-time jobs at major corporations. It would be inconceivable both for her to attend a residential university and for her to receive an advanced degree that was anything less than world-class.
According to Ernesto, who has been teaching at Rensselaer Polytechnic Institute since 1987, the program is simply the most efficient and effective way to educate people like Bobbi with demanding, full-time jobs and rich personal lives. Unlike typical online education, consisting of pre-recorded lectures which are easy to tune out in real life and even easier to tune out over a computer, Rensselaer's programs are interactive, digital, mentored and project-based. Students deal with some of their most difficult work challenges as part of their curriculum and regularly interact with their instructors on the nitty gritty details, wherever in the world they happen to be. In Bobbi's case, she once had a discussion with Ernesto from a Disney World hotel room, after her girls had gone to bed.
The projects Bobbi is working on are simultaneously so cutting-edge and practical that Ernesto has encouraged her to submit her findings to a prestigious national engineering conference. A remarkable personal achievement that will garner accolades from her peers, Bobbi, like most of her classmates, has attended many industry conferences, but never as a presenter. In fact, Ernesto frequently co-authors papers with his students to ensure they receive the attention they deserve and recommends which conferences they should be submitted to. Over the years, he has consistently seen raises, promotions and accelerated career trajectories as his students' investment in their educations paid off with improved efficiencies, new processes, procedures, and increased revenue.
Next Spring, Bobbi and her girls, along with several of her Pratt & Whitney co-workers, will journey down from Maine to Troy, NY, to don their caps and gowns and accept their diplomas. It will be a big moment for Bobbi, the culmination of long hours, often late at night and on weekends, in pursuit of mastery in the field she loves so much and with a team that she's so committed to. And while there was never a promise of a promotion or a raise to push her along, the immediate, intrinsic rewards of being a better engineer and manager along with the impact on her daughters' education, career, and life make it all worthwhile, literally changing three lives with one degree.