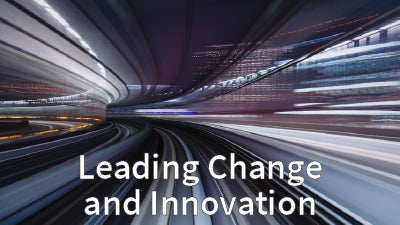 Guiding an enterprise through accelerating change requires agile, insightful leadership.
The Leading Change and Innovation graduate certificate prepares leaders to move teams, units, and organizations forward – intentionally, purposefully, and without the turmoil typically associated with change. The need for change - due to technology, to competition, to client needs – must occur at the right time and in the right direction. Change requires leaders who are adept, who can see the world evolving, and who can plan and execute change in a manner that leads to positive results. After all, organizations are people – it is through people that the successful leader initiates and directs change.
Certificate Information
You can begin the certificate in January, May, or August.
All courses are delivered using Rensselaer's digital classroom – the RensselaerStudio.
Certificates are 9 credit hours, and can be completed in a year or less.
Complete projects that address real-world business challenges.
Master techniques and abilities that can be leveraged to elevate your role at work.
Projects involve the context of your work, helping you to perfect your abilities while simultaneously providing value back to your employer.
Faculty Practitioners provide industry expertise, advice, mentorship, and encouragement.
Students have the option of completing just one certificate, or combining multiple certificates into a customized master's degree.
All certificates are offered for graduate-level credit, and require admission to Rensselaer's graduate programs.
Certificates are designed so that you can fully participate in classes from anywhere in the world.
Course Coverage:
The Leading Change and Innovation Certificate requires three courses:
BUSN 6105: Agile Planning and Execution - Using the Agile change management methodology, take a systematic approach to articulating desired outcomes, developing a detailed plan with milestones and metrics, and bringing stakeholders in at appropriate points. Develop crucial communications planning, ensuring the organization has a full and clear picture of the direction and execution path. Real-world projects in this course include developing a plan for a change initiative in one's organization – defining the outcomes, selecting the methodology and developing the communication framework.
BUSN 6106: Leaders as Change Agents - Becoming a change agent requires an outlook that great leaders deploy daily – identifying opportunities for change and innovation internally and externally. Adopt a strategic orientation to change for achieving results in market leadership through product and process innovation. Develop the ability to "see" and lead change through real-world projects to establish design-thinking approaches while analyzing when the timing is right for change. Build the leadership tools needed to design and communicate transformative efforts.
BUSN 6107: Changing and Innovating - Change occurs through people – work with a Master Mentor to identify the tools needed to develop authentic relationships throughout the organization. Practice the Rensselaer mentorship framework to mentor employees and ensure that teams understand the roles and responsibilities they own. Using this framework, build real trust with others so new ventures can be implemented and sustained throughout the organization without the turmoil typically associated with change.