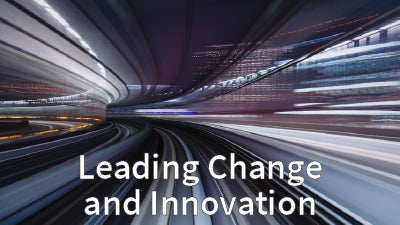 Guiding an enterprise through accelerating change requires agile, digitally-astute leadership.
The Leading Change and Innovation Graduate Certificate from Rensselaer was created in consultation with major organizations who want to best position their teams now for monumental changes to come. This certificate satisfies the need with development and practice in communication, leadership capacities, planning change, implementing change, and measuring and evaluating progress.
These skills are taught across three courses: Agile Planning and Execution, Leaders as Change Agents, and Changing and Innovating. Hands-on, real world projects - integral to the courses - are designed so that students can realize immediate application to their work.
Certificate Information
You can begin the certificate in January, May, or August.
All courses are delivered using Rensselaer's digital classroom – the RensselaerStudio.
Certificates are 9 credit hours, and can be completed in a year or less.
Complete projects that address real-world business challenges.
Master techniques and abilities that can be leveraged to elevate your role at work.
Projects involve the context of your work, helping you to perfect your abilities while simultaneously providing value back to your employer.
Faculty Practitioners provide industry expertise, advice, mentorship, and encouragement.
Students have the option of completing just one certificate, or combining multiple certificates into a customized master's degree.
All certificates are offered for graduate-level credit, and require admission to Rensselaer's graduate programs.
Certificates are designed so that you can fully participate in classes from anywhere in the world.
Course Coverage:
The Leading Change and Innovation Certificate requires three courses:
BUSN 6105: Agile Planning and Execution - Develop a full plan using an Agile methodology to implement a change management initiative or project. Identify the proposed change by evaluating the organization's current state, proposing specific improvements that better meet organizational objectives. Engage stakeholders, and plan progress using Agile tools, then implement the project through to completion. During implementation, use Sprints and Scrum practices to continuously refine outcomes and achieve performance goals. Use leadership best practices to engage and involve stakeholders to ensure the project is fully implemented.
BUSN 6106: Leaders as Change Agents - Develop abilities associated with change-agent leaders, evaluating and implementing change within complex and dynamic organizations. Learn to lead high-performing teams, engage stakeholders, and communicate effectively with different stakeholder audiences. Develop and inspire others to engage in change initiatives that align closely with the organization's desired vision and goals. Learn to engage in environmental evaluation to assess capacity for change, fostering cultural change that allows the organization to sharpen focus and perform as envisioned.
BUSN 6107: Changing and Innovating - Change and innovation occurs through the people of an organization. Students in this course use mentoring and coaching tools to invoke the highest performance from employees, and to focus on the achievement of organizational goals and strategy. Students in this course are mentored by a Master Mentor, and in turn use that methodology with three mentees to build their own mentorship capacity. Students help their mentees set SMART goals, make recommendations for performance improvement, and evaluate the achievement of goals. By using a mentorship approach, students ensure that each individual is directly aligned with, and is contributing to the organization's change and innovation.