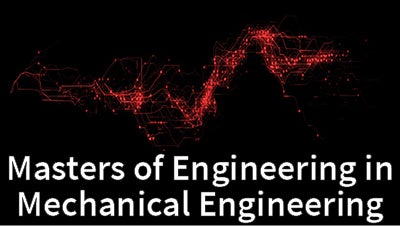 The natural progression for engineers ready to lead teams and projects in complex organizations: A Master of Engineering in Mechanical Engineering. Experienced engineers are asked to take on larger and more complex tasks as they progress in their careers. Rensselaer's program gives you the breadth and depth you need no matter where your profession takes you, no matter what the organization challenge you're being asked to tackle.
Designed for working professionals, the Master of Engineering in Mechanical Engineering program is taught by Rensselaer's outstanding and highly ranked engineering faculty. The program provides opportunities to learn through application. You choose projects that help propel you forward in your career. Students in the program are working professionals with a wide variety of backgrounds and experiences. Are you ready to change the world? Then Rensselaer's Master of Engineering in Mechanical Engineering is right for you.
Degree Information
Coursework includes topics in project management, energy, manufacturing, and systems to prepare you as a well-rounded problem-solver.
All courses are delivered using Rensselaer's digital classroom – the RensselaerStudio.
Degrees are ten courses, and can be completed in two years or less.
Complete projects that address real-world business challenges.
Projects involve the context of your work, helping you to perfect your abilities while simultaneously providing value back to your employer.
Faculty Practitioners provide industry experience, advice, mentorship, and encouragement.
All courses and certificates are offered for graduate-level credit and require admission to Rensselaer's graduate programs.
Programs are designed so that you can fully participate in classes from anywhere in the world.
Two of the 10 courses are Professional Projects which are formulated and completed with the advisement of a Faculty Mentor.
Throughout the semester, evening synchronous sessions are scheduled to cover course content, complete team projects, and share learning outcomes. Participation in the synchronous sessions is encouraged. The sessions are recorded for anyone that is unable to attend.
The program results in a Master of Engineering in Mechanical Engineering degree from Rensselaer Polytechnic Institute.
Courses

Credits

ISYE 4240

Engineering Project Management

3

MANE 5000

Advanced Engineering Mathematics

3

MANE 696x

Advanced Heat Transfer

3

MANE 6170

Mechanics of Solids

3

MANE 4240

Introduction to Finite Elements

3

MANE 6720

Computational Fluid Dynamics

3

MANE 6970

Professional Project 1

3

MANE 4640

Analysis of Manufacturing Processes

3

ENGR 6230

Lean Six Sigma 1

3

MANE 6970

Professional Project 2

3

Total Credit Hours

30
Engineering Project Management: This course covers the aspects of defining, planning, implementing, and managing technical projects. Project Management Software is used extensively. Coursework will lead to understanding in a full spectrum of activities: project selection, writing RFPs, planning, stochastic analysis for risk estimation, budgeting, Earned Value Analysis, and control. Students will acquire a sound understanding of project management practice and will be equipped to take a lead role in projects.
Advanced Engineering Mathematics: A presentation of mathematical methods useful in engineering practice. The course covers analytical and numerical techniques used in linear algebra, the numerical solution of nonlinear equations, the foundations of vector and tensor algebra and an introduction to vector operators, polynomial and trigonometric interpolation and approximation, and an overview of the fundamentals of probability and statistics including random variables, density and distribution functions and hypothesis testing.
Advanced Heat Transfer: Conduction, convection (including boiling and condensation), and radiation heat transfer. Thermal system design and performance (including heat exchangers). Emphasis on physical and mathematical modeling of systems for application of modern analytical and computational solution methods.
Mechanics of Solids: This course provides an introduction to the mechanics of solids from a continuum perspective. Topics covered in this course include: vector and tensor analysis, coordinate systems and calculus in curvilinear coordinate systems, kinematics (motion, deformation and strain), stress and momentum balance, energy principles and balance laws, linear isotropic and anisotropic elasticity, thermoelasticity, method of solutions for 2-D and 3-D linear elastic boundary value problems, applications to simple structures.
Introduction to Finite Elements: An introductory course in the use of the Finite Element Method (FEM) to solve one-and two-dimensional problems in fluid mechanics, heat transfer, and elasticity. The methods are developed using weighted residuals. Algorithms for the construction and solution of the governing equations are also covered. Students will be exposed to the use of commercial finite element software.
Computational Fluid Dynamics: Issues concerning implementation of finite difference methods (FDM), finite volume methods (FVM) and finite element methods (FEM) will be discussed. These issues include: the discrete formulation, nonlinear equation iterator (steady)/marcher (time-accurate), linear equation formation, boundary condition prescription and linear equation solution.
Analysis of Manufacturing Processes: Manufacturing engineering including driving forces, quality attributes, tolerances will be examined. Basic principles of mechanics, engineering materials, analysis of both bulk-forming (forging, extrusion, rolling) and sheet-forming processes, metal cutting, and other related manufacturing processes will be explored. The role of computer-aided manufacturing in these areas will be addressed.
Lean Six Sigma I: Builds the main perspectives of Lean Six Sigma including quality improvements, waste reduction, and best practices that ultimately lead to fewer defects and increased efficiency. Topics covered include the principles, qualitative methods, process improvements, and problem solving techniques for improving existing business processes. The emphasis is on the Define, Measure, Analyze, Improve, and Control (DMAIC) phases of Lean Six Sigma.
Professional Project (2): Over the course of two semesters, students complete a master's-level project under the supervision of a faculty adviser, leading to a master's project report. The final report must demonstrate the student's mastery of the subject matter covered throughout the course of the degree program.