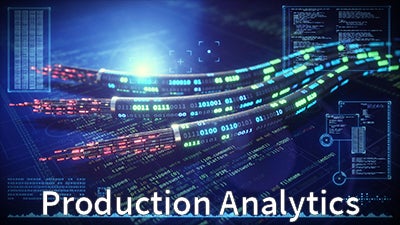 Increasingly complex global supply chains and logistics require data analytics expertise to achieve organizational performance. 
Today's cutting-edge organization simply can't survive without constantly optimizing operations. As a leader, you need the power of data analytics to ensure you are making the right decisions.
Rensselaer's Production Analytics Graduate Certificate prepares you to model the organization accurately, differentiate true intelligence from "hunches", turn unknowns into knowns, and make the best use of data possible.
Certificate Information
You can begin the certificate in January, May, or August.
All courses are delivered using Rensselaer's digital classroom – the RensselaerStudio.
Certificates are 9 credit hours, and can be completed in a year or less.
Complete projects that address real-world business challenges.
Master techniques and abilities that can be leveraged to elevate your role at work.
Projects involve the context of your work, helping you to perfect your abilities while simultaneously providing value back to your employer.
Faculty Practitioners provide industry expertise, advice, mentorship, and encouragement.
Students have the option of completing just one certificate, or combining multiple certificates into a customized master's degree.
All certificates are offered for graduate-level credit, and require admission to Rensselaer's graduate programs.
Certificates are designed so that you can fully participate in classes from anywhere in the world.
Course Coverage:
The Production Analytics Certificate requires three courses:
ENGR 6200: Data-Driven Decision Making - Frame questions and resolve problems using data wrangling techniques; employ models using linear/nonlinear multivariate methodologies; validate results and develop algorithms that can be used to make recommendations and forecasts.
ENGR 6205: Production and Logistic Analysis - Use visualization and cluster analysis tools to gain deeper insights into production and logistic relationships. Apply data analytics to real-world production problems and questions, including evaluating throughput, factor isolation and output risk analysis, model changes, forecasting environmental control factor changes, and minimizing defects and shortages.
ENGR 6206: Modeling Production Decisions - Working with a Faculty Practitioner as your mentor, develop a big data inquiry model for a production problem of your choice. Over the semester, frame the question, collect and prepare data for analysis, perform the analysis, and present actionable recommendations.