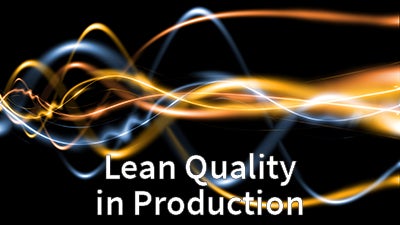 Innovative processes can deliver growth and profit, but what about the outdated processes that slow you down?
Process is the lifeblood of business. When results aren't satisfactory, change is required. The powerful, proven tools of Lean and Six Sigma help diagnose and fix issues, and create new, innovative processes.
Rensselaer's Graduate Certificate in Lean Quality in Production prepares you with these methodologies to fix existing processes and create new ones.
Certificate Information
You can begin the certificate in January, May, or August
All courses are delivered using Rensselaer's digital classroom – the RensselaerStudio
Certificates are 9 credit hours, and can be completed in a year or less
Complete projects that address real-world business challenges
Master techniques and abilities that can be leveraged to elevate your role at work
Projects involve the context of your work, helping you to perfect your abilities while simultaneously providing value back to your employer
Faculty Practitioners provide industry expertise, advice, mentorship, and encouragement
Students have the option of completing just one certificate, or combining multiple certificates into a customized master's degree
All certificates are offered for graduate-level credit, and require admission to Rensselaer's graduate programs
Certificates are designed so that you can fully participate in classes from anywhere in the world.
Course Coverage:
The Lean Quality in Production Certificate requires three courses:
ENGR 6230: Lean Six Sigma I - Learn the fundamentals of Lean and Six Sigma and apply them to a relevant work-place process. The Define, Measure, Analyze, Interpret, and Control (DMAIC) improvement cycle along with Voice of Customer (VOC), Quality Functional Deployment (QFD), 5S, Kaizens, and Plan-Do-Check-Act (PDCA) are put in to practice.
ENGR 6231: Lean Six Sigma II - Building on your DMAIC experience, identify new, high-value processes and learn to create them with the Define, Measure, Analyze, Design, Optimize and Verify (DMADOV) approach along with data collection and statistical methods for Design of Experiments (DOE), Root Cause Analysis (RCA), and Key Performance Indicators (KPIs).
ISYE 6970: Professional Project - Continue with DMADOV to Design a new process, Optimize it, and Verify (DOV) so that the design meets quality standards. Use factorial design, optimization with robust design principles and the Taguchi loss function, and verify process performance with functional degradation testing and a control plan.