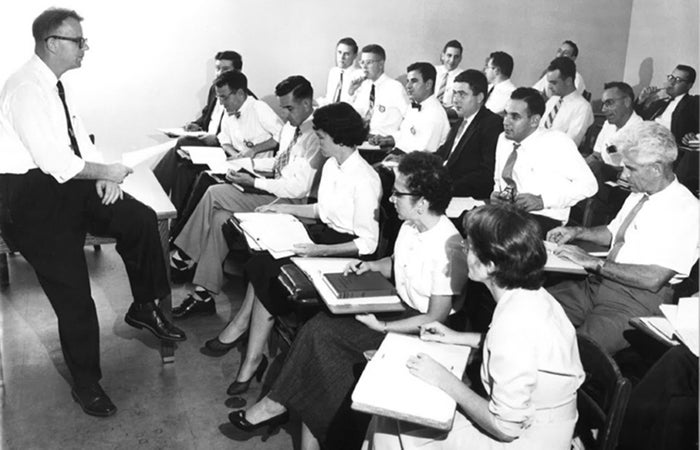 Rensselaer at Hartford was founded over 60 years ago to provide graduate and executive education to engineers and business leaders
Picture this: It was 1955. The commercial airline industry was just starting to really "take off".
The idea of flying across the country or to a foreign land was in its infancy. Likewise, the role of flight in the military arena was growing by leaps and bounds. The demand for aircraft and its components was increasing by triple digits. United Aircraft Corporation (UAC) – a conglomerate of Pratt & Whitney Engines, Hamilton Standard Propellers, Chance Vought Aircraft, and Sikorsky Helicopters – was actively doing its best to attract engineers to its primary operations in and around Connecticut. In fact, its advertisements in major publications consistently included a notice to engineers that it needed "experienced engineers in many categories."
The same growth was seen in other major hubs in aviation development, California becoming one of the most active. Major employers there were offering engineers continued education while working – and paid for by the employer – as a benefit to attract new talent. UAC knew it needed to offer better and reached out to major universities in Connecticut and neighboring states to build masters programs for its developing talent pool.
Of the universities contacted, the esteemed Rensselaer Polytechnic Institute in Troy, New York, replied favorably and quickly committed to offering programs designed with the working professional in mind. Sure enough, Rensselaer found a facility now in Hartford, Connecticut, – less than five miles from UAC's major operations – and opened with courses and programs that fall of 1955.
Since then, Rensselaer has proudly helped over 20,000 engineers and business leaders achieve their graduate and executive education objectives. UAC later became United Technologies Corporation (UTC) as we know it today. It can be said that the Rensselaer Hartford campus and UTC "grew up" together over the last 63 years.
Just as UTC continued to develop some of the most innovative products in aviation, Rensselaer also continued to innovate the delivery and experience of education for working professionals – not only with UTC, but with a host of global employers throughout New England.
And then the internet happened.
From the '50s to the late '90s, graduate school was a local choice. The working professional had to fit graduate study around their other job and life schedules, making time to be on campus after work and on weekends. Most students chose their graduate school program by proximity as the only means of access.
Then the internet brought the notion of study in blended and online models – from an array of institutions, no matter where you were or what time zone you were in. This brought the working professional a whole variety of different choices. One could fully meet the demand of life and professional commitments without ever setting foot on "campus" and still get a degree. As with every other industry, the internet leveled the playing field and brought many new and unexpected opportunities.
The early offerings of online graduate programs attempted to exactly reproduce the on-campus experience, with mixed results. As other sectors have found, trying to meet market needs with the same deliverable in a different format, as options and needs continue to change, does not always lead to the best results.
For Rensselaer, a central tenet of learning while at work is delivering the full excellence of the Institute in every program, to every student. Given its many delivery models practiced over the years, Rensselaer seeks to fulfill the current and future needs of its working learners and their employers while promoting change and making significant impact on the world as we know it. As the landscape of industry changes, Rensselaer continues to innovate its learning experiences with great cause.
All breakthroughs begin with a 'break from.'
A key to Rensselaer's pioneering approach is a commitment to providing what the market needs, where, and when the market needs it. Employers are consistent with their requests: They need employees who not only know a leading-edge approach in their field, but also have the experience and the context of best practice. The combination of a strong up-to-date knowledge base and the experience that comes from practical application – is what sets an adult learning program apart.
And that is where Rensselaer comes in. With its huge research capacity and experience, Rensselaer can take what is learned today with its cutting-edge knowledge base, and deliver it tomorrow to working professionals and employers anywhere.
Rensselaer at Hartford continues its 63-year tradition of serving working professionals by designing programs that use an active and engaged project-based approach—one that closely mirrors the work of a professional in the field at every level. The "drive" for Rensselaer at Hartford students is to increase one's knowledge, have the experience with innovative thinking, and the utilization of a new skills base, all while connecting to the best in professional education and talent of those learning with them.
Proud to have played a substantial role in the growth and development of its employer-partners and working professionals over the better part of six decades, Rensselaer at Hartford continues its standard of excellence in education – and will for decades to come. Our students are men and women with multiple priorities and opportunities working for companies with practical needs to make a difference fast. It is a massive challenge and brings the Institute full circle to its origins in 1955, as it opened its doors as a pioneer in creating meaningful education specifically to educate the most promising, working professional.
And to that end, we ask, Why not change the world?