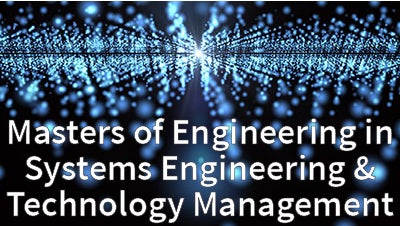 Transform systems and technology to achieve organizational goals and advance your career with a Master of Engineering in Systems Engineering and Technology Management.
Today's complex organizations need leaders who can organize, analyze, and lead change in rapidly evolving environments. Rensselaer's Master of Engineering in Systems Engineering and Technology Management prepares decision makers with broader and deeper capabilities to lead today's most advanced operations.
Designed for working professionals, the program is taught by Rensselaer's Faculty Practitioners with industry experience who mentor you throughout. The program provides opportunities to learn through application. You choose projects that help propel you forward in your career. Students in the program are working professionals with a wide variety of backgrounds and experiences.
Degree Information
Coursework in the program includes topics in project management, business issues, discrete event simulation, and systems modeling to prepare you as a well-rounded problem-solver.
All courses are delivered using Rensselaer's digital classroom – the RensselaerStudio.
Degrees are ten courses, and can be completed in two years or less.
Complete projects that address real-world business challenges.
Master new abilities and techniques that can be leveraged to elevate your role at work.
Projects involve the context of your work, helping you to perfect your abilities while simultaneously providing value back to your employer.
Faculty Practitioners provide industry experience, advice, mentorship, and encouragement.
Students have the flexibility of completing just one course at a time, a graduate certificate, or stacking two certificates in to this customized master's degree.
All courses and certificates are offered for graduate-level credit and require admission to Rensselaer's graduate programs.
Programs are designed so that you can fully participate in classes from anywhere in the world.
The program results in a Master of Engineering in Systems Engineering and Technology Management from Rensselaer Polytechnic Institute.
Courses

Credits

ISYE 4240

Engineering Project Management

3

ENGR 6100

Business Issues for Engineers

3

ISYE 6620

Discrete Event Simulation

3

ISYE 6610

Systems Modeling in Decision Sciences

3

Four fundamental courses (3 credit hours each)

12

1st Certficate of Choice (three courses/3 credits each)

+9

2nd Certficate of Choice (three courses/3 credits each)

+9

Completing degree credit hour requirement of:

30
Engineering Project Management: This course covers the aspects of defining, planning, implementing, and managing technical projects. Project Management Software is used extensively. Coursework will lead to understanding in a full spectrum of activities: project selection, writing RFPs, planning, stochastic analysis for risk estimation, budgeting, Earned Value Analysis, and control. Students will acquire a sound understanding of project management practice and will be equipped to take a lead role in projects.
Business Issues for Engineers: Investigate business-related considerations in successfully commercializing new technology in a new venture or within an existing enterprise: market and customer analysis, beating the competition, planning and managing for profitability, high-tech marketing and sales, and business partnerships and acquisitions.
Discrete-Event Simulation: Develop simulation language in order to progress through a series of increasingly sophisticated applications of computer simulation. Projects include: production systems, inventory, finance, transportation, and public systems. The course includes model development, statistical analysis of simulation data, validation planning, and managing simulation projects.
Systems Modeling in Decision Sciences: Decision science methodologies in the context of technical and economic decision problems. The course develops a conceptual framework for these methods in implementation. The course applies decision science methods to problem recognition and data development through problem formulation and computer solution.